Warehouse Management – The Mobile Warehouse Solution – isWarehouse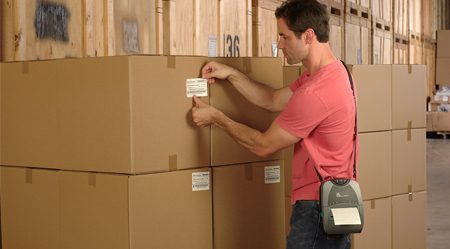 Stock information, orders and details at the touch of a button on a mobile computer
Our isWarehouse mobile warehouse solution allows you to keep track of all your warehouse movements and orders. With isWarehouse, your goods are always exactly where they are needed – at the right time and in the right quantity, making both your warehouse workers and your customers happy. In conjunction with mobile data capture, internal warehouse processes are accelerated and orders can be picked and delivered faster. isWarehouse is not a disproportionate software with a multitude of functions that are not commonly used in everyday warehousing, rather it is based on a number of standard modules, which are adapted exactly to your needs. isWarehouse has clearly designed screens, which lead to all important modules and functions within just a few clicks.
Accelerated warehouse processes – A typical warehouse situation with isWarehouse:
Tasks, activities and stock information are displayed to every warehouse worker on a robust and mobile device using isWarehouse. All goods movements can be recorded immediately using the mobile terminal via the barcode scanner and are immediately available in the superposed ERP system – without the need for manual post-recording. This makes typical warehouse work easier and more efficient:
Goods inwards and storage
A well-functioning warehouse begins at goods inwards. With each delivery, it should be easy to see what the delivery is and what it contains. With isWarehouse incoming deliveries can be scanned immediately. The software provides all the relevant information and immediately recognises whether a wrong delivery or a delay in delivery exists or issues an acceptance directly to the mobile terminal. In the next step, isWarehouse supports the storage of new goods. There are either placed in any available storage areas (chaotic storage) or specific storage areas with their location. Each warehouse admission is recorded directly in the superposed warehouse management system and the received goods are immediately available for open orders.
Picking and Packing
Vital to the success of an efficient warehouse is the fast processing of customer orders. This increases warehouse throughput and increases competitiveness. Picking lists are provided to the warehouse staff directly via mobile terminals. Picking takes place based on customer orders and follows optimised routes. Multi-order picking and picking according to previously created priority lists are also possible.
Outgoing Goods
As soon as the goods have been picked for an order, the appropriate shipping label can be printed directly via the mobile terminal. It is possible, depending on the shipping method, to store different label layouts and all printers in the network can be activated via the mobile device.
Stock take
Stocktaking and inventory registration often involves a lot of time and effort. Often, long lists are kept – all handwritten, of course. Our inventory solution isMobilInvent enables paperless inventory/inventory creation using one or any number of barcode entry terminals. isMobilinvent is a module of our isWarehouse warehouse management solution, which can also be used as a stand-alone solution. In the stand-alone version, isMobilinvent runs autarkic and independent of the ERP system used on a wide range of mobile terminals. An inventory can be carried out parallel to daily business.
Online, On-Demand Communication
In combination with mobile capture technologies, isWarehouse is the data hub that can exchange data directly with your ERP system. Through the online, on-demand functionality, isWarehouse only communicates with the superposed ERP system if necessary or where possible. This saves resources and ensures fast and fluid work on the mobile device. The online, on-demand solution also makes it possible to collect and edit data when not connected to the ERP system. As soon as there is a connection to the ERP system, the data that has not yet been synchronised is transmitted.
isWarehouse – your storage solution based on the modular principle
The mobile warehouse application isWarehouse has a modular structure. Depending on requirement, you can select only the modules relevant to your application. This saves investment costs and ensures fast and fluid work on the mobile device.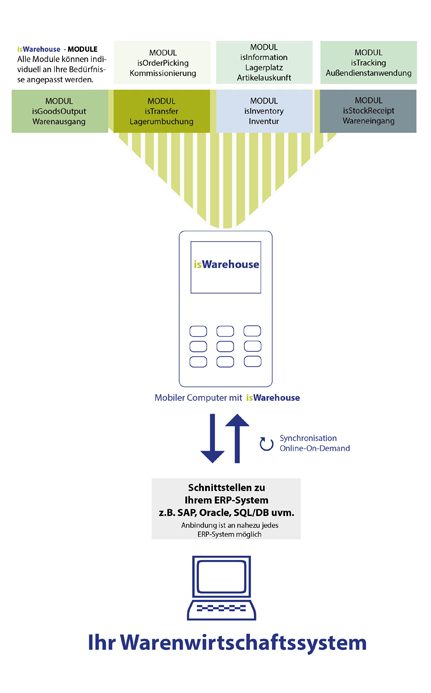 Project scheduling with isWarehouse:
Every customer project starts with planning. Our system consultant will be happy to visit you on-site in order to gain an impression of your system environment and existing processes. This is important, because one project is not the same as the next and each warehouse is unique. Our aim is to facilitate and accelerate your existing system processes with our solutions.
Individual customisation:
We present our proven isWarehouse software modules to you during an on-site workshop meeting, which we then adapt to your demands and requirements alongside you.
• Which isWarehouse modules make sense in your company?
• Which screens and messages are important to your warehouse staff?
This workshop is the basis for your individual process flows with our isWarehouse mobile warehouse solution. Your wishes, desires and expectations are our targets.
Installation and startup operations:
Installation and initial startup is completed very quickly and your chosen hardware will then be adapted to your system environment. Network settings, device settings and barcode scanner settings are aligned by us to your application. isWarehouse can be extended to your needs at any time with additional modules to grow with your company and your specifications.
Features of isWarehouse:
Your current warehouse situation and current processes always in view – our isWarehouse warehouse application is a solution for mobile data collection devices that connects to existing ERP or warehouse management systems.
Mobile warehouse application directly available on mobile handheld devices.
Mobile warehouse application interface between your existing ERP system and the mobile data collection devices used by your employees in the warehouse.
Clear graphical terminal dialogues on mobile devices.
Individual adaptation to your existing warehouse processes.
High performance through online, on-demand communication.
No paper lists – scanning the data means fewer sources of error.
High integration capability: interfaces to all standard ERP systems.
The advantages of isWarehouse: