Software solution for mobile data capture terminals – isConstruct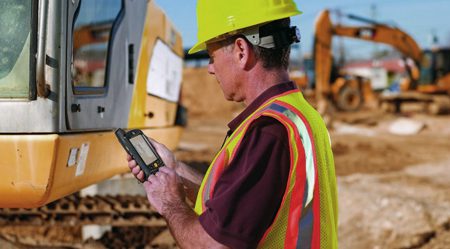 The disposal of the equipment and materials used on construction sites is often carried out informally or by the use of paper lists, which are entered into the ERP system manually with a time delay. If the processing takes place over several works yards, disagreements may occur or information may become outdated. An accurate determination of the location of machinery and equipment is made more difficult and delays in current construction projects may occur.
This is where the isConstruct solution, specifically tailored to the needs of the construction industry, comes into play.  isConstruct is a software solution for mobile data collection. It allows construction companies to keep track of their machinery, equipment and consumables, and to manage them in relation to cost centres.
Direct communication with ERP systems
The mobile barcode terminals can either autonomously record all material and machinery movements and either transmit the collected data centrally to the superposed database/ERP system or, communicate e.g. with the warehouse, live via the ERP system using WLAN and GSM. The data is then immediately available anywhere in the company. This creates transparency, optimises planning and saves travel time. Up-to-date information on construction machinery or required materials can be retrieved on the barcode terminal at the push of a button whilst on the construction site, and edited if necessary. Employees in the construction yard or on the construction site are connected online to the superposed system so that all essential data is always available in the office and in the field.
A typical procedure with isConstruct:
All devices, machines and consumables receive a durable label with their own barcode, which is then captured using the isConstruct software.
As soon as a product or item of equipment leaves the works yard, it is scanned by means of a mobile barcode terminal and immediately transferred to the ERP system along with the destination or the designated construction site. The material and equipment-related information is now available throughout the company and can also be accessed at any time at the press of a button on the mobile terminal.
Features of isConstruct::
• Recording of equipment items by barcode scanning during an inventory
• Inventory query
• Mobile application – on the road and on site
• Connection to the ERP system
• Maintenance and display of maintenance intervals
• Automated data exchange with the ERP system
Your advantages with isConstruct