Barcode labels are key components in a company and are used in a variety of different ways across various branches:
Barcode labels control goods flows
Barcode labels automatise the warehouse and optimise processes
Goods and package deliveries can be tracked using barcodes
Enquire about ink ribbons
Find out more about our barcode labels now!
Consistent quality, branch expertise, consulting expertise and service – Integer Solutions – Your supplier for labels
A diverse range of items and goods bear labels, which allow them to be identified whilst providing precise
information about the item's history. We even have the right labels for more demanding surfaces.
We have the right barcode printer!
In addition to our range of labels, we also have the right label printer for your printing needs. Whether that be a desktop printer for the office or an industrial printer for warehouse and production. We supply label printers for a wide range of uses.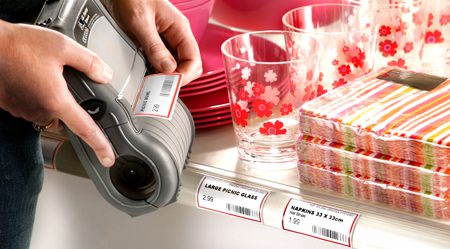 The right label material for every kind of use
We provide the right label material to match your needs and our barcode label printers. Make a non-binding enquiry about our labels now.
Paper labels for simple, cost-effective marking
Polyethylene labels (PE labels made from organic, recyclable thermoplastic synthetics). Due to their suitability for food products, these labels are often used in the foods industry. Other characteristics: Moisture and temperature resistant from -10 C to 80 C, currently a cost-effective synthetic label material
Polypropylene labels (PP labels)
Characteristics: Resistant to almost any organic solvent, acid, alkaline and grease.
Polyester labels (PET labels)
Characteristics: Temperature resistant (-60 to 150 C) and shrink/strech resistant. Resistant to water, gasoline, oil, grease, alkaline and acid.
Barcode labels – materials
To operate the label printer smoothly, you will also need the right material for each different task. We are happy to assist you in your choice and can help you find the right product to match your needs. Here at Integer Solutions, we can offer you individual, tailor-made labelling solutions. Regardless of whether you need thermal direct printing labels for short-term marking, such as for shipping, or even paper or plastic thermal transfer labels, we have a wide range of materials with various characteristics.
Our extensive assortment includes non-adhesive and self-adhesive label materials with permanent, strong permanent, removeable, water-soluble and self-destructing qualities. We can also pre-print CI-compliant labels for your company in one or more colours.
Depending on the intended use and material, we can offer you a wide-range of options, such as hazardous goods labels, industry labels, warehouse/regulation labels and safety labels with or without a hologram effect, barcoding, numbering, perforation, splitting, hole-punching, roll labels, fanfold labels, precut labels, chemical and heat resistant labels and much more.
Pre-printed barcode labels
Is your printing system working at full-capacity or do you lack a label printer? We can print for you to meet
your requirements and we have the right label for virtually any situation or surface. We supply barcode labels to meet your individual requirements: in size, colour, material and adhesion type.
Regardless of the type of barcode labels you are looking for, you will certainly find it with us because we have the right material to match any label. Labels or adhesive labels as singles, in a roll, on a sheet, made from paper or foil; we have the full range to meet your needs including standard products such as warning signs, labels for shipping identification and much more. We have the right label with the right adhesive strength and a clear surface. We also provide you with the appropriate transfer film for a consistently high print-quality, as well as a practical selection of colours. We stock the most common types and sizes of labels at low prices and can even supply in small quantities.
Examples of the wide-range of uses for barcode labels:
Product labels
Name plates
Shelf and warehouse location marking
Logo labels
Inspection tags
Shipping labels
Advertising labels and many more.
Label characteristics
Heat/cold resistant
UV-resistant
Waterproof, water-soluble
Oil resistant
Chemical resistant
Abrasion-proof
Outdoor durable
Ink ribbons for thermal transfer label printers
Ink ribbons for barcode label printers: When combined with the right ink ribbon, it is possible to create all kinds of different labels. There are three different types of thermal transfer ink ribbons:
Resin ribbons
Wax ribbons
Wax/resin ribbons