Modern and powerful warehouse logistics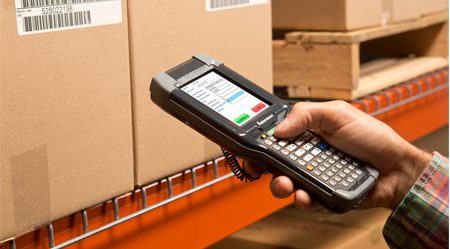 Warehouse logistics is an important part of many companies – whether small, medium or large. Flexibility, speed and the correct handling of goods are the cornerstones of modern warehousing and efficient forwarding systems. Those who want to stay competitive in these sectors must be able to guarantee a smooth internal process and perfect deadlines. Own and foreign goods are logistically stored in warehouses and managed in the warehouse. The warehouse logistics department is responsible for the entire organisation, from planning, optimisation to execution and control of all product streams, data streams, inventory and people in a company's warehouse. Precisely for this reason, an efficient, adaptable and individual hardware and software solution is even more important in order to be able to carry out the highly complex process flows in the warehouse, in an economical and environmentally friendly way.
The logistics industry is characterised by specific requirements, especially in the field of labels.
Therefore, the indispensable interface between the real goods streams and the digital information streams is established by warehouse logistics using barcodes. Integer Solutions has a wide range of labels, especially with regard to the wide range of applications in the warehouse, such as: the permanent and flexible labelling of shelves and storage areas. In addition to the conventional goods and articles, the storage of hazardous substances and the return and collection of certain waste products for further processing or subsequent disposal is important. Within the warehouse system, these logistics requirements must therefore be well marked by labels on which all important information can be identified. Only in this way can they contribute to optimum warehouse management.
In order to ensure an optimal and flawless target control of warehouse management in logistics, readers are also used, such as barcode scanners for barcode labels, mobile computers or stationary terminals, which can be used quickly and reliably in the warehouse. These compact devices are ready for use in the harshest environments with the highest levels of usability and reliability, and are ideal for logistics. Fast data transfer and the uninterrupted supply of the most updated data optimises warehouse management enormously.
Optimally tuned scanning and reading devices make searching for items easier and faster. This increases the productivity of each company and ensures a permanent overview of all streams of goods. The storage location of the objects can be viewed at any time and misdirected articles can be immediately registered and assigned correctly. This can optimise the flow of goods and materials, speed up work processes and reduce stock management costs.
A selection of barcode solutions for warehouse logistics