Optimal product labelling and traceability in the retail industry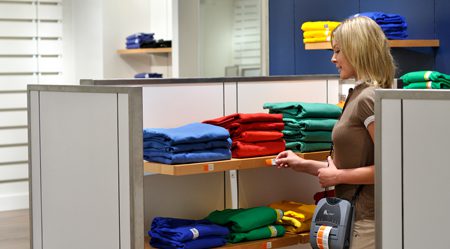 The labelling of goods in the wholesale and retail industry is versatile and individual to every company and must not only inform the customer but also comply with standards and legal regulations. The goods to be labelled are often subject to different requirements. Some goods are placed outdoors, others in freezers and are suitable for consumption. Depending on the location and storage as well as the product and its ingredients, different labelling requirements in wholesaling and retailing exist.
In order to make products and packaging absolutely unique, there is an increased demand for labels that carry variable information; which may be barcodes as well as other data. Barcode labels can also identify individual check digits. For this purpose, digit protocols must be kept in order to manage incorrect numbers. Barcodes have revolutionised the way large volumes of goods and automated production processes are handled. Similarly, in the retail trade, the introduction of barcodes has brought about a significant simplification of goods handling. This can be a problem for many retailers as the underlying technology is not so easy to grasp.
Depending on requirements, different barcode types may be used
Some barcodes contain only numeric information (UPC/EAN, Interleaved 2 of 5) and others numbers and letters (Code 93, Code 128 or Code 39). Code 128 can encode all 128 characters. For linear barcodes, there are only two width possibilities. Multi-level codes allow three and more bar widths. The more detailed the barcode information is, the higher the print quality has to be. The range of uses for barcodes is very large. Integer Solutions, as an IT logistics systems house, offers a variety of solutions for different labels in the retail sector, which optimise the shopping experience for customers and make information about the product visible. Labels provide key product information and can be quickly and easily created with our solutions.
Whether best before date, ingredients or origin – for each product in retail there is information that must be passed on to the customer
Even small details often determine whether a product is taken to the checkout or put back on the shelf. Information about the product or the price is often crucial for the purchase decision of the customer. In the absence of this information available to the customer, the probability of not buying is high and the customer leaves the store without the product. Labels are available in different sizes and qualities. There are basically two different systems with which the labels can be printed. Standard labels are printed using thermal transfer printers, which in turn require their own thermal transfer ribbon. Direct thermal labels are printed by directly applying heat (direct thermal barcode printer) and do not require a ribbon.
Flexible and easy-to-use barcode scanners are essential especially in the retail trade with heavy customer traffic
So-called imager scanners are useful here because they are particularly resistant to interference. Due to the use of Bluetooth, wireless, handheld, barcode scanners you can move freely while using them and are not bound to a location. The barcodes are recorded from a short reading distance. Particularly in the case of cash register systems, for example in supermarkets, stationary scanners, built-in scanners and presentation scanners are suitable. In the retail sector, wireless as well as wired barcode scanners are ideal. For example, in the office and when completing administration, barcode scanners with an image scan mode are perfect for reading signatures or labels. From a technical point of view, barcode scanners work like all other scanning options (e.g. flatbed scanners): The surface of the object to be detected is illuminated and sensors detect the optical differences within the barcode (light/dark). Conversion software then generates the stored information from the raw data read. These barcode scanners may be connected to a PC via an integrated RS232 port or a USB port. Now, wireless barcode scanners can also transmit data via Bluetooth technology.
A selection of barcode solutions for retail