The importance of a well-functioning organisation in the construction industry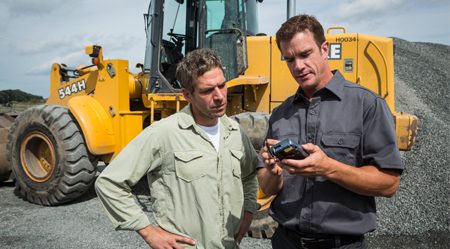 In the construction industry, an orderly overview and well-functioning administration of the many individual trades, materials, construction machinery, timings and uses on a variety of construction sites is particularly important. This high degree of organisation can be ensured by means of modern IT and barcodes in the construction industry, especially on construction sites. Within the context of larger construction sites, this a feat that challenges site managers – and all those with relevant responsibilities.
Another major challenge for the construction industry is the correct time recording of the hours worked by each employee
In this context, barcodes are particularly suitable. Simply read the barcode printed on the company ID card with a barcode scanner and the employee is automatically recorded in the system. Employees can register upon arrival on the construction site and log out using the barcode.
What works with the individual employees in the construction industry on construction sites can naturally also be applied to vehicle fleets and construction machinery in the construction industry. Today, using suitable printing processes, it is possible to produce highly resistant labels for different application needs. Labels that adhere to rough surfaces, are safe from manipulation and are suitable for all wind and weather conditions. Labels can be installed easily on e.g. machinery, diggers, wheel loaders, telehoist load luggers and lifting platforms. The barcodes and reading devices are used to register the construction machinery on arrival and register it in real-time with the company's central fleet management.
With the combination of scanners and software, individual machinery can be selected and, in addition, defects can be marked. Thanks to the isConstruct software from Integer Solutions you will always been able to keep an overview of your machinery and materials. You can also see when each piece of machinery is available for use again. In this way, it is clear to each employee which pieces of construction machinery are in stock and therefore available ready for use. As a result, not only can the location of individual vehicles be determined, but also maintenance and service intervals can be perfectly scheduled to avoid long downtimes.
Logistics technology in the construction industry can be even more closely related to the organisation and planning on construction sites. It is often the case that there is only sufficient space for a few days' or maybe even weeks' worth of material on every site. Nevertheless, there must always be sufficient building materials on site to ensure a smooth construction process. With the use of software-based programmes such as NEVARIS the material requirement can be precisely defined from the first working day to cover the entire construction process. The site management is able to know exactly when certain materials have left the plant and should arrive on site. In addition, workers can be scheduled at the site at the right time.
Barcode solutions for the cunstruction industry